McSally Advocated for Barrett's Nomination
U.S. SENATE – Today, U.S. Senator Martha McSally (R-AZ) hailed President Donald J. Trump's intent to nominate Ambassador Barbara Barrett to be Secretary of the Air Force.
Since Air Force Secretary Heather Wilson announced her departure, McSally has been working with the Trump Administration to advocate for Barrett for the position. McSally's efforts culminated in a call with President Donald J. Trump on May 17th urging him to select Barrett for the position. McSally met Barrett in 2012 and they have become close friends since.
"Ambassador Barrett is a force to be reckoned with and has the leadership, experience, and knowledge to lead our Air Force into the future during a time of increased global threats," said McSally. "I have confidence that Ambassador Barrett will lead the way in maintaining air and space dominance and continue to build upon the initiatives, leadership, and example set forth by Secretary Heather Wilson."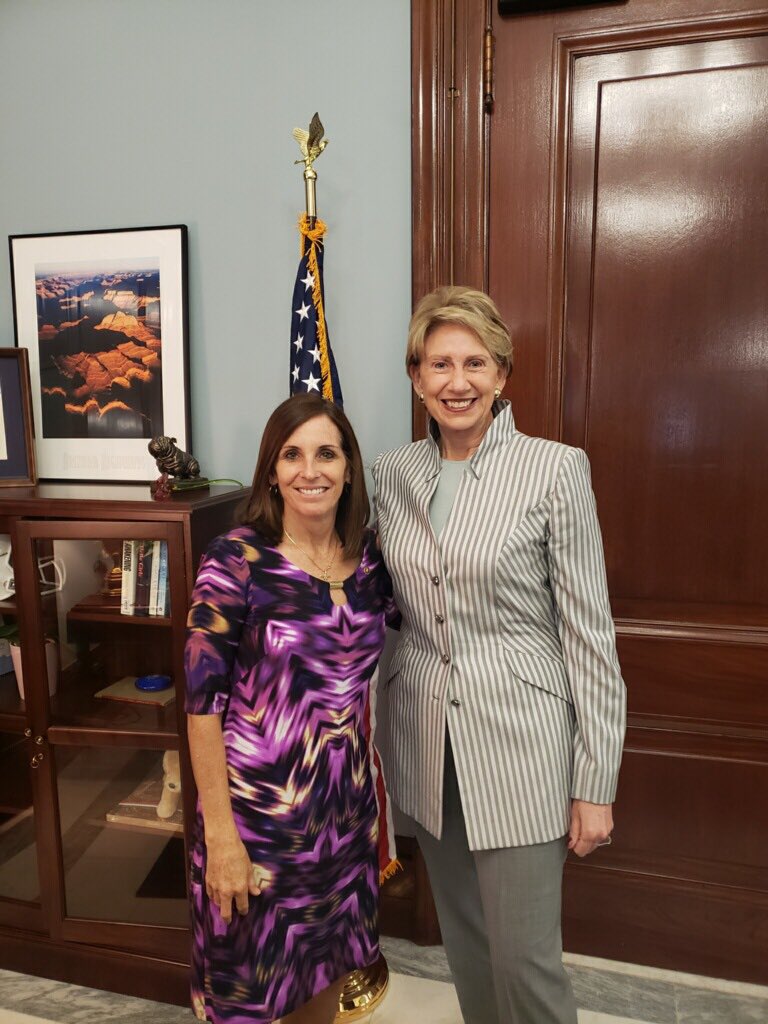 McSally met with Barrett in her Washington, D.C. office about the position on May 16.
The Honorable Barbara M. Barrett is an instrument-rated pilot who was the first civilian woman to land in an F/A-18 Hornet on an aircraft carrier. Following astronaut training, she was certified for space flight. In 2014, Barrett was inducted into the Arizona Aviation Hall of Fame. She is currently Chairman of the Board of The Aerospace Corporation's Board of Trustees, a $1 billion federally funded research and development center for national security and military space systems.
Barrett was interim president of Thunderbird School of Global Management, CEO of the American Management Association, founding chairman of Valley Bank of Arizona, a fellow teaching leadership at Harvard, a partner in a large Phoenix law firm and, before she turned 30, an executive of two global Fortune 500 companies.
Barrett advised five American presidents on trade and defense policy, President George W. Bush appointed and the Senate confirmed Barbara as U.S. Ambassador to Finland and she was a senior advisor to the U.S. Ambassador to the United Nations. President Ronald Reagan appointed and the Senate confirmed her to serve as deputy administrator of the Federal Aviation Administration and vice chairman of the Civil Aeronautics Board.
Barrett served as president of the International Women's Forum, member of the Center for International Enterprise board of directors, first woman to chair the President's Advisory Commission of Public Diplomacy and member of the President's Advisory Council on Trade Negotiations. At Thunderbird, she founded an entrepreneurial training and mentoring program for Afghan women that is emulated today in 41 other countries.
She has been recognized with the Horatio Alger Award, the Woodrow Wilson Award for Corporate Citizenship and the Sandra Day O'Connor Board Excellence Award.
###